Don't look back; that is not the direction that I am going:
A year end reflection while looking forward to 2016 at Friends From Iowa Foundation.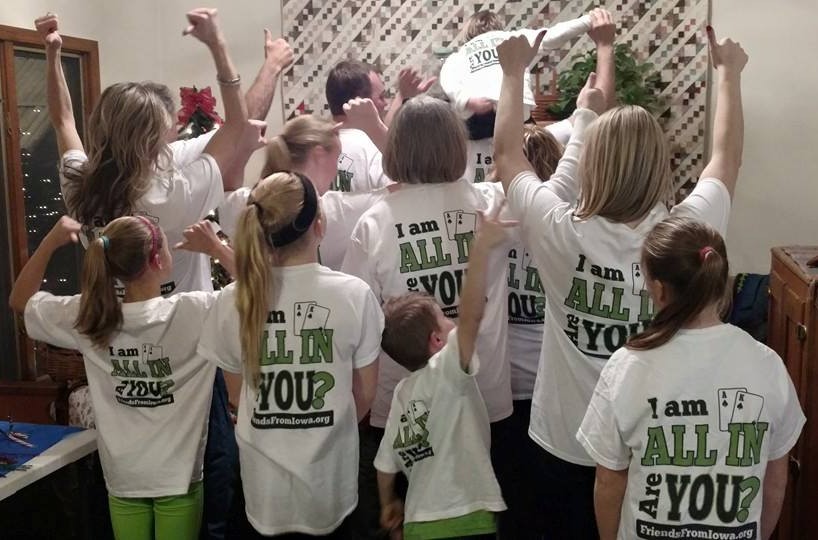 I always liked the phrase, "Don't look back; that's not the direction I am going," but on Christmas Eve, events occurred that caused me to reflect on the past and especially this past year. It is a good feeling when you realize that the efforts of FFIF not only help and leave an impact on those we serve in El Salvador but also here at home. When my family was gathering on Christmas Eve, I noticed a grandson had a t-shirt on with a large FFIF logo on the front. I didn't think much of it until I spotted another granddaughter wearing one showing the front of it through her unzipped coat. Then, when most had arrived and removed their coats, the surprise was revealed. Everyone had the same shirt on, and when they turned around, the bigger surprise was on the back. There, in bold design, was a quote of mine that states a fact and provokes a question at the same time. Not to be left out, Brandon and Elyse texted a picture of themselves in Florida wearing the same shirts.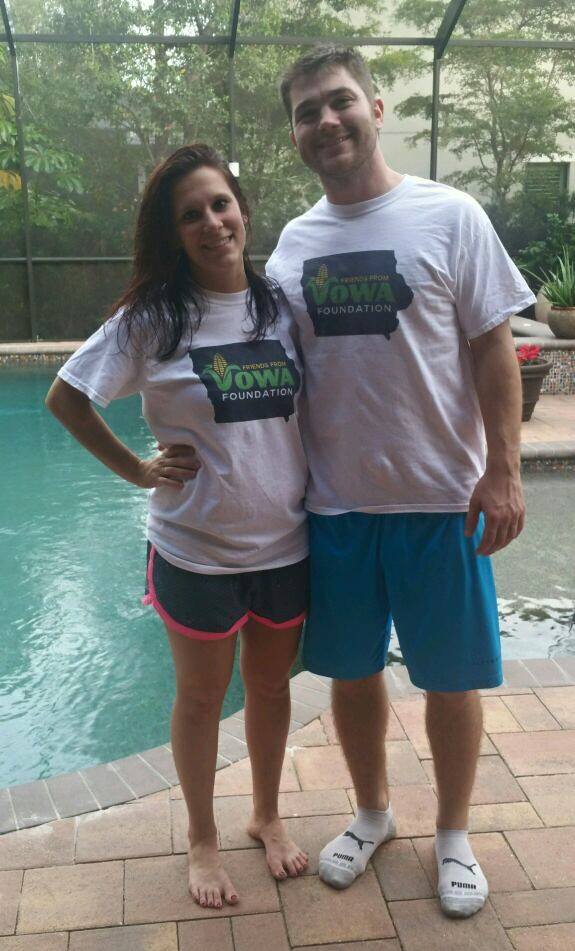 After some holiday cheer, our traditional Christmas Eve meal, and the reading of the Christmas story, the grand-kids had prodded Grandma Kathy enough that she agreed to letting them open their presents. Laying in front of Kathy and I on the coffee table was an envelope and a bag with "Mom and Dad" on the front. Upon opening and reading the message that was inscribed, tears formed in both of our eyes making it hard to make eye contact and finish reading the narrative. They stated that they decided instead of "buying and selling Christmas with a credit card," that there were checks inside the envelope from each of them made out to Friends From Iowa Foundation to be used to put the finishing touches on the soon to be library and computer center at the foundation property. Inside the bag were shirts that matched everyone for Kathy and I to put on; now, everyone had the same shirt and message on. I guess one could say that we are "ALL IN." It was a humbling yet satisfying feeling to witness your children and grandchildren honoring your passion.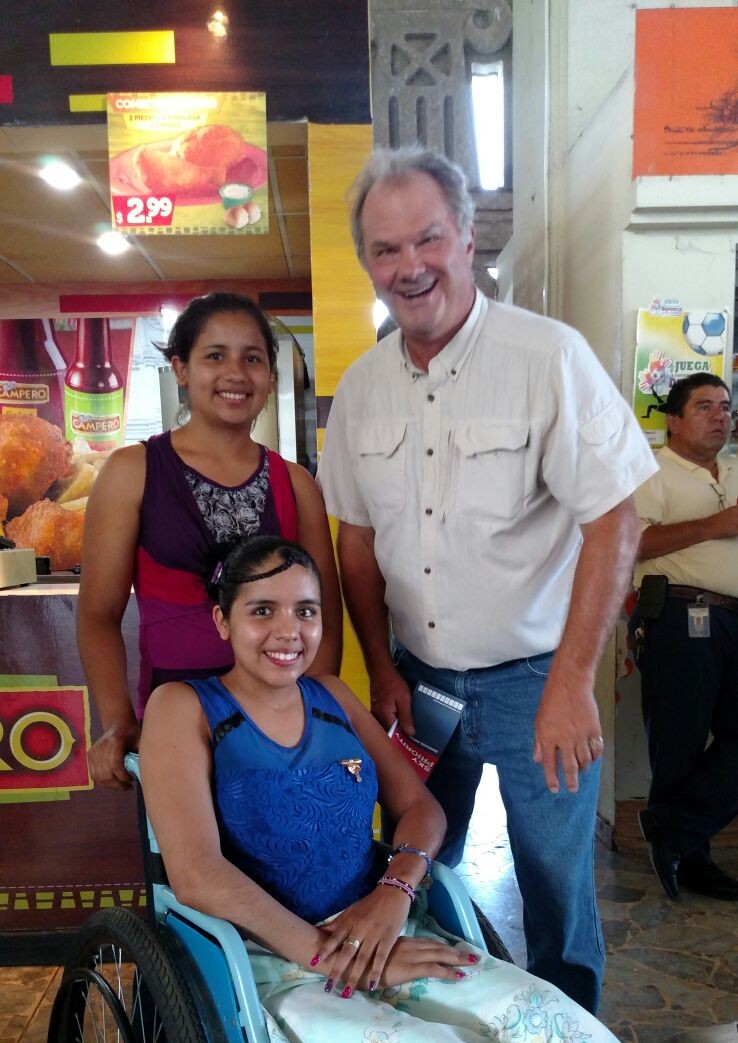 2015 started off with the finishing of the last house in phase two of the housing development. With a little shuffling, this allowed Diana and her sister, Azucena, to move into the development. Both of them, their mother, and their father were extremely elated with this offer. This allowed Azucena to resume her schooling by attending Centro Escolar Catolico El Espiritu Santos in Berlin (she quit school for over a year to take care or her sister, Diana) and allowed Diana to be close to Dr. Urrutia, who was providing her medical care and getting her prepared to finally have her surgery. In June, after a grueling 2 1/2 years of ups and downs, Diana finally had her long anticipated surgery. It is incredibly rewarding to witness her getting her life back. One of the best feelings was being surprised at the airport by Diana following her surgery and rehab. Diana is enrolled to return to school at the high school in Berlin in January, fulfilling her dreams of continuing her studies and being a mentor to her peers.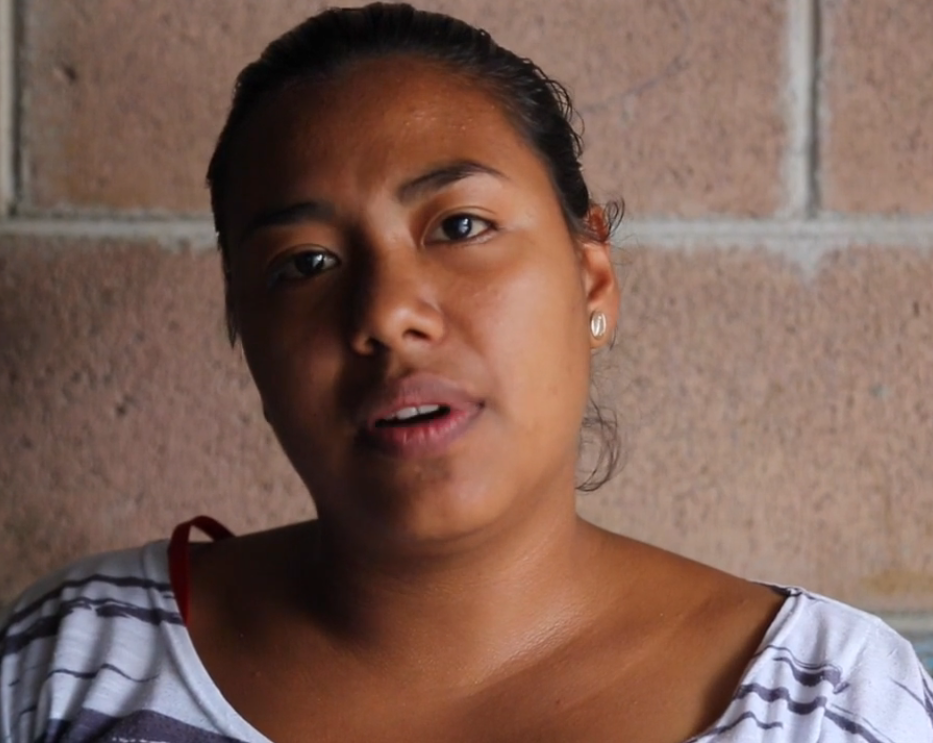 A young lady named Natalie accepted our offer of providing a college scholarship for a two-year program at a university of her choice in San Miguel. There are very few high school graduates who would have an opportunity to attend a college and receive a degree. This not only empowers her to better herself and gain employment in a rewarding and satisfying career, but it is also a Godsend for her extended family to a better life. Supplying a college scholarship is a first for FFIF. There has been a lot of discussion about how to best help the youth, and this approach is many times brought up. So we decided to get our feet wet and find out the nitty-gritty involved in offering such an opportunity. Our hope is that there will be a growing interest from others to be able to expand and extend this great life-changing opportunity to others. FYI: the total cost of a year of college is around $2,000 a year; that includes tuition for full load courses, transportation to and from the university, labs, food, books, etc. TOTAL; an unbelievable bargain by our standards.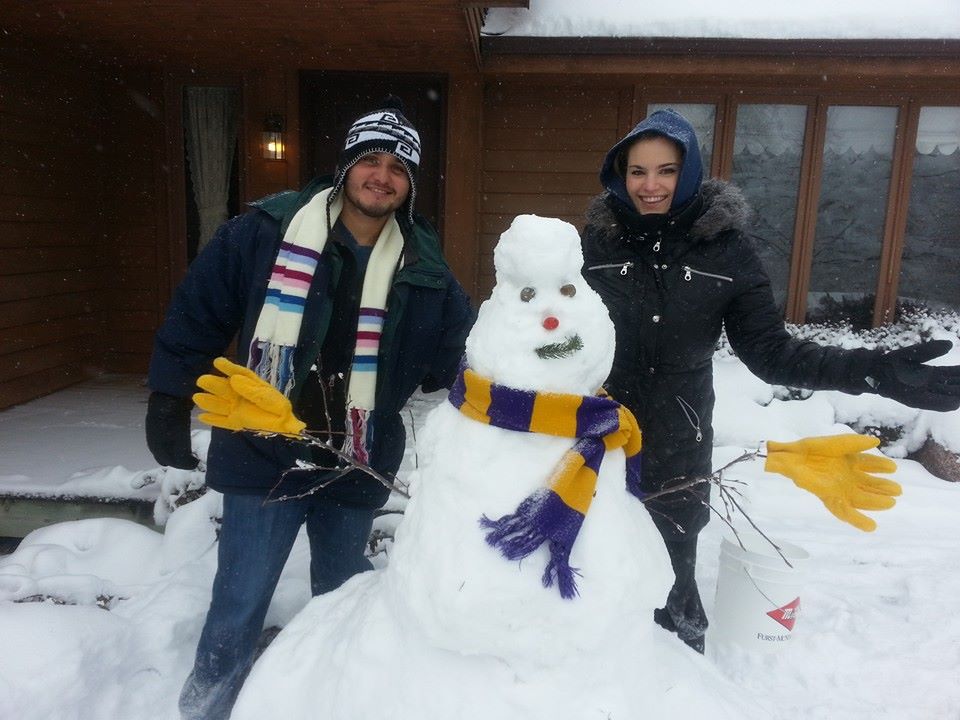 Another early in the year highlight was the honor of helping facilitate Andrés Monterrosa's visit to Iowa. Without Andrés' unending dedication, loyalty, love, and compassion for his fellow Salvadorians, none of this would be possible. It was another life lesson learning the maneuvers within the system to acquire a visa to visit the U.S. If you are from El Salvador, your odds of winning a visa to visit here, legally, are worse than leaving any given casino a winner. Andrés filled his three week stay with the daily adventures of the farm, numerous school visits, behind the scene look at businesses, and excursions to the malls, historical sites, and the Capitol – even getting a personal tour of the floors of the house and senate; you name it, he did it. One of the main purposes of his visit was to share his experiences living in Berlín, El Salvador and to share his observations and opinions of the help that is being provided to his community. Not to be disappointed, Andrés wowed his numerous audiences with his oratory of the life-changing projects and help that he is privileged to administer on many of our behalves. I have no doubt that Andrés left more here than he took home.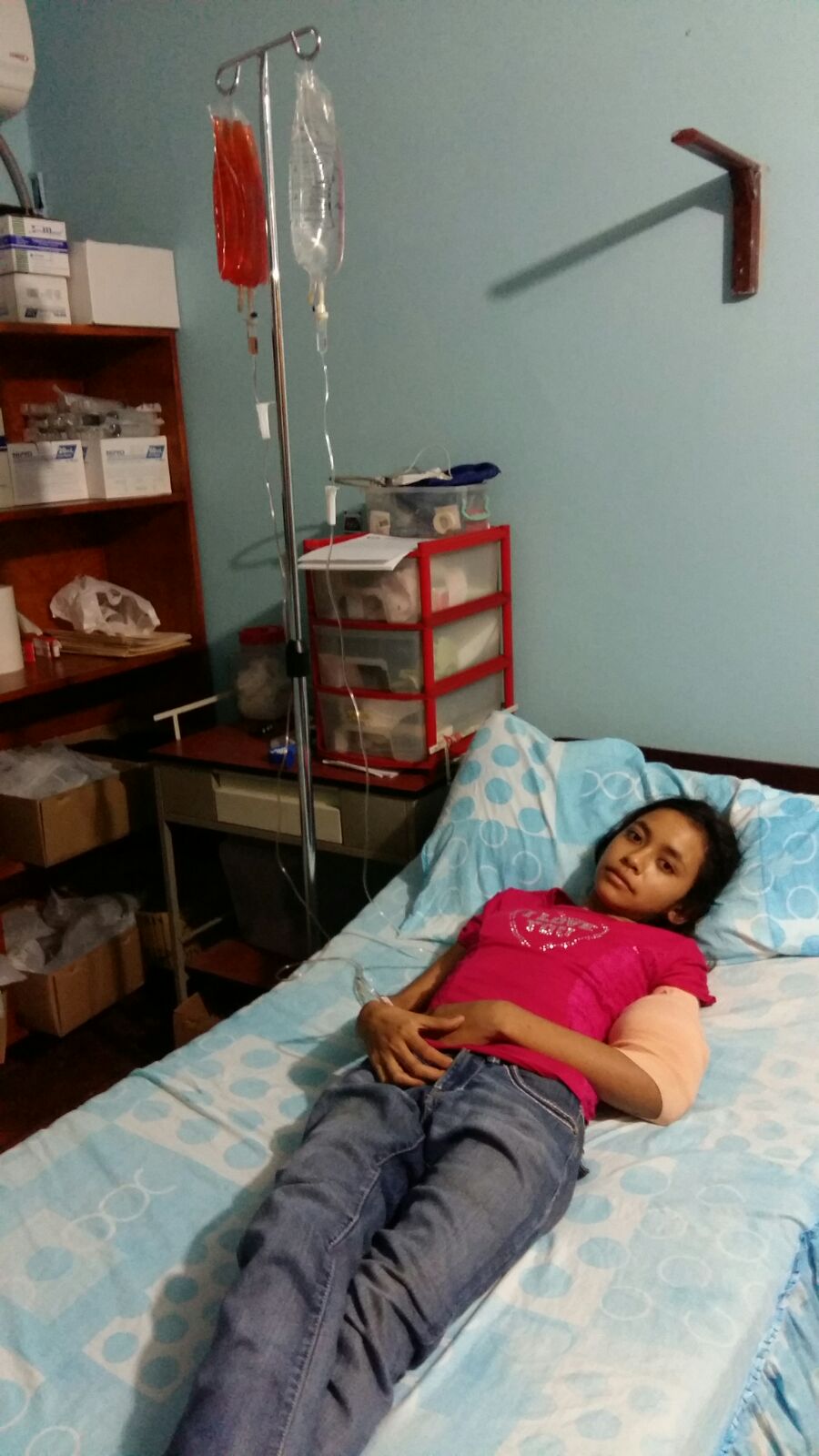 There where scores of people offered assistance with medical needs. Some as simple as a $17 ultrasound or $20 prescription of antibiotics to life saving procedures. Among these were Diego, a young man with renal failure requiring dialysis on a routine basis; Jackeline, a mother of four, struggling with a months-long battle with cancer to finally say she beat it; to Maravilla, with his many years long battle with excruciating open wounds on his legs. And most recently, Reina, a 13 year old girl battling for her life with a rare form of cancer. Most of these cases with help can win their respective battles but some lose.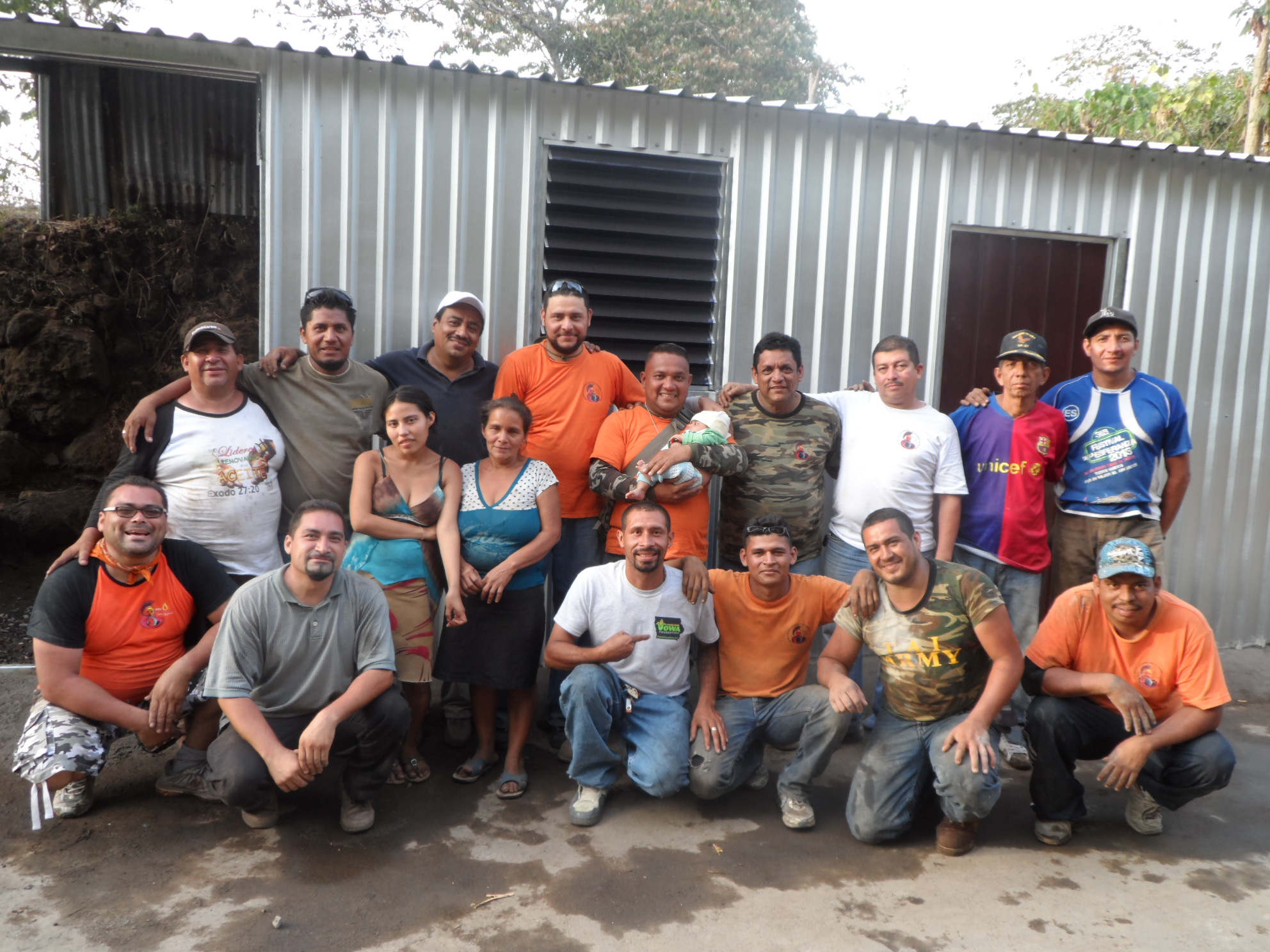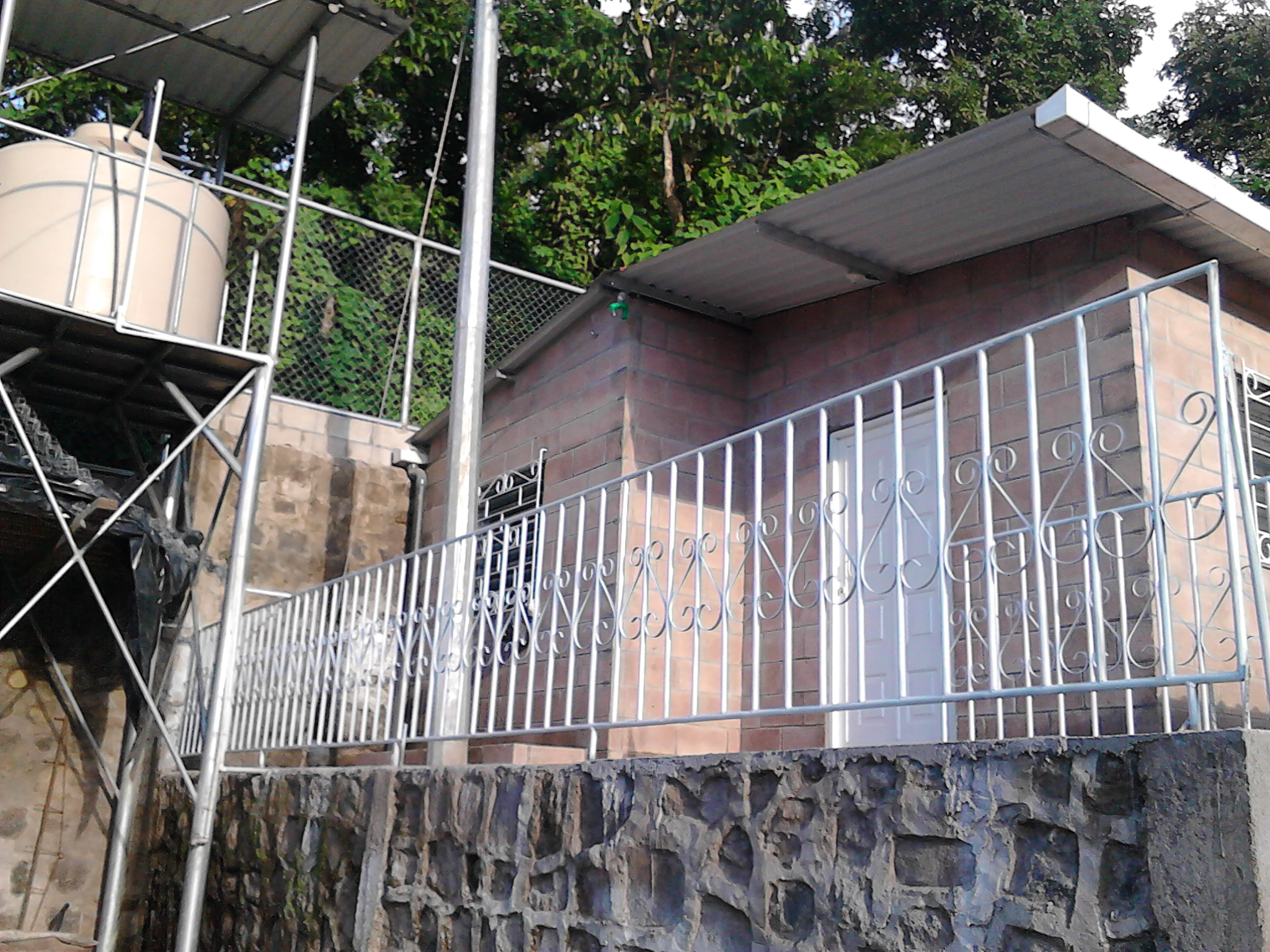 In those heartbreaking instances, we do all that is left; prayers for them and their families and assistance for a funeral service and burial, hoping for some semblance of dignity. On a lighter note, besides finishing the 2nd block housing development, we built a couple of metal houses. We hope to compare the two types of structures to see how the metal ones work for providing safe, secure, and dry shelter. They can be built for a little under half the cost of cement and block. One day, along the road, we ran into a group of men erecting a metal structure that would become a house. After quizzing them about what was going on and who they were, they explained their group and their mission. They are a group of Christian men from different walks of life with different job skills; one an engineer, another a welder, others are masons doing cement or brick and block work, others are laborers just wanting to give back. They come together on weekends and build these metal houses that they have mastered. They either raise funds though their church fundraisers in order to buy the materials and then provide the labor free of charge, or someone else funds the purchase of the materials ($2,000) and they provide the labor for $500. Then they use their labor proceeds to go towards funding another house for someone they know. These guys have this down to being able to complete a house in one weekend. Kathy has nicknamed them "God's Guys." An impressive group of men that I feel honored to call my friends. Hopefully, in the future, there will be interest from others to help build these as well as the block houses.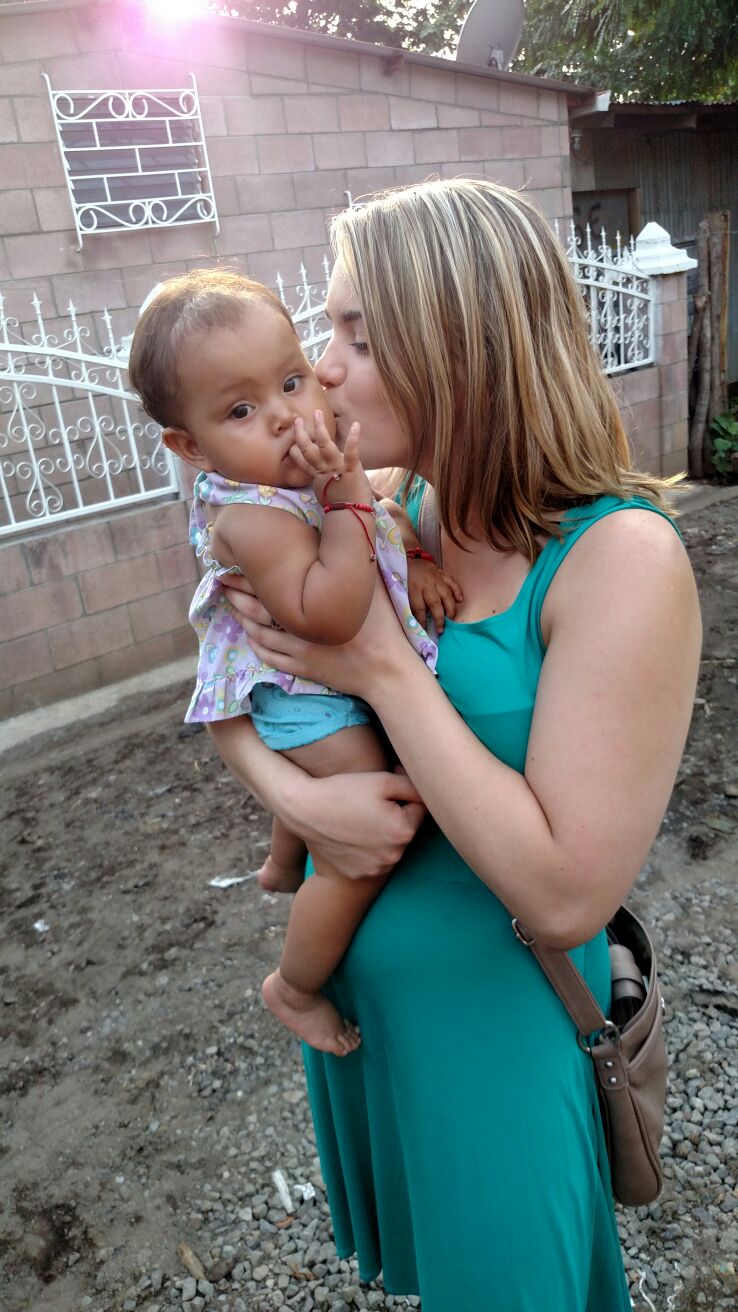 It was an honor to have my daughter, Kendra, accompany me on a trip this year. She got to experience the many facets of what FFIF does and stands for: She visited the schools we assist, falling in love with the many smiles of innocence acknowledging her presence. She gave them undivided attention, letting them know that each of them is important; Visited the homeless and offered them something to eat; and visited the many people we have provided a place to call home. I know these had lasting impressions. Having her experience the many things that have an uncontrollable draw on me and keeps me wanting to go back was rewarding to me.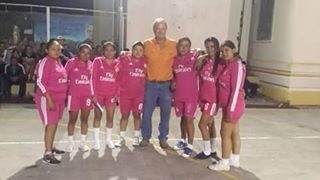 FFIF was also honored to sponsor both a women's and men's soccer team from Berlín; helping to not only show our support for the community but also allowing these young adults a chance to represent their community with pride.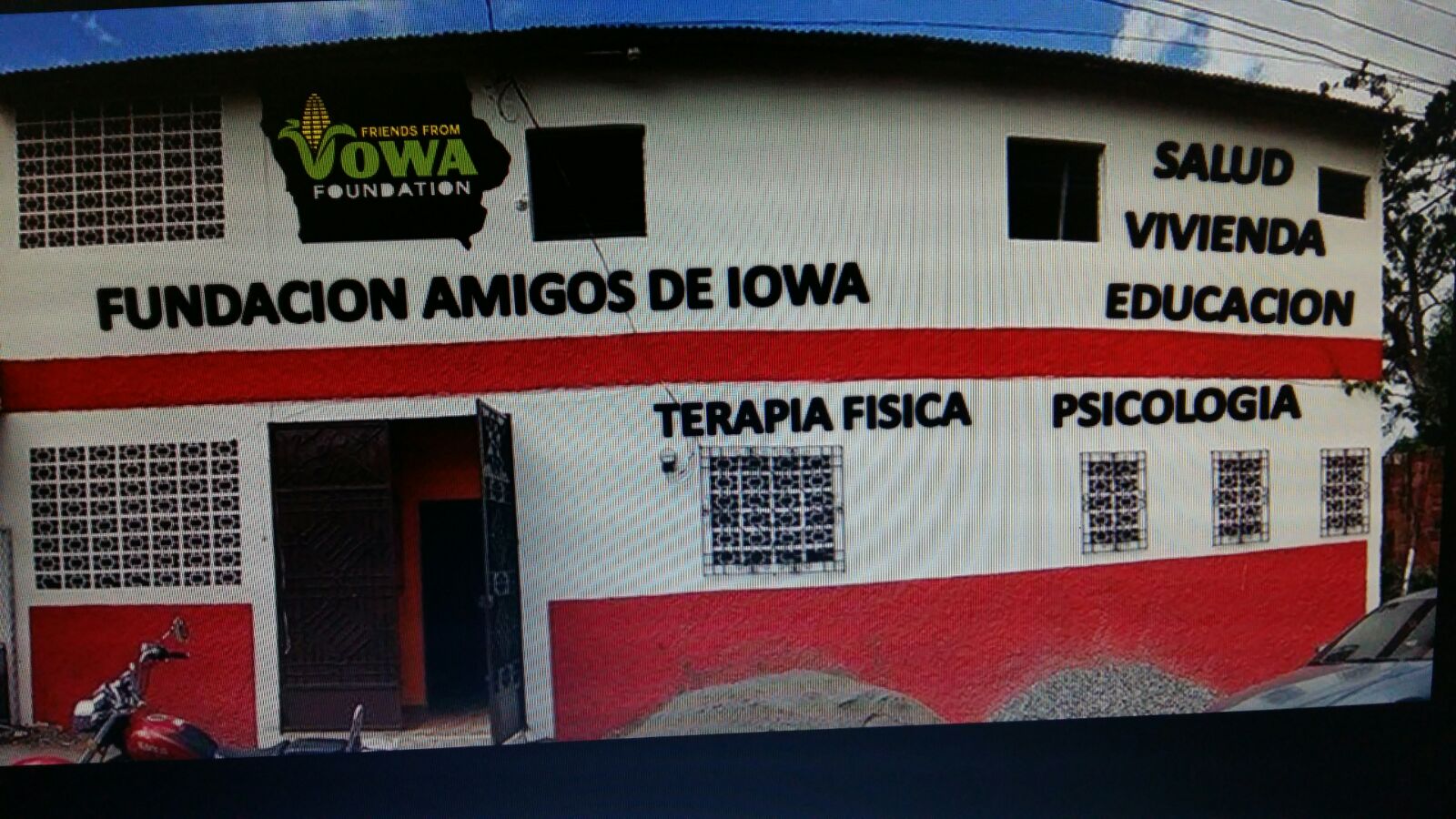 Acquiring the foundation property, getting it back up and running, and providing the much needed assistance to the community was another major accomplishment. One day, when walking back from the hardware, an acquaintance who I met years before stopped me and asked what my plans were during that particular trip. I told him I was looking to see what properties were available that we could use for a multitude of projects we had ideas for. He happened to be the owner of a property many have visited, including myself many times. It was a local foundation that had been started by his mother 40 years ago and was ran by him until last January. It was a foundation providing physical and occupational therapy, social services, and multitudes of services to the poor of the poor; especially children with physical and mental difficulties. I learned in January that the major source of their funding had been denied, and they had to close their doors. It was a surprise and shock not only to me but to the community as a whole and to other NGOs that helped. After our conversation on the street that day, I had a note waiting for me that evening at the hostel where I stay. It was from Ivo, the gentleman that I talked with on the street. He wanted me to meet him for dinner. He shared that he would like to offer me the opportunity to purchase his property. This was a dream come true; this is a large property with many buildings and houses offering a multitude of opportunities, only to be limited by a lack of dreams. We finalized our agreement, and the first thing on my agenda was to resurrect the foundation.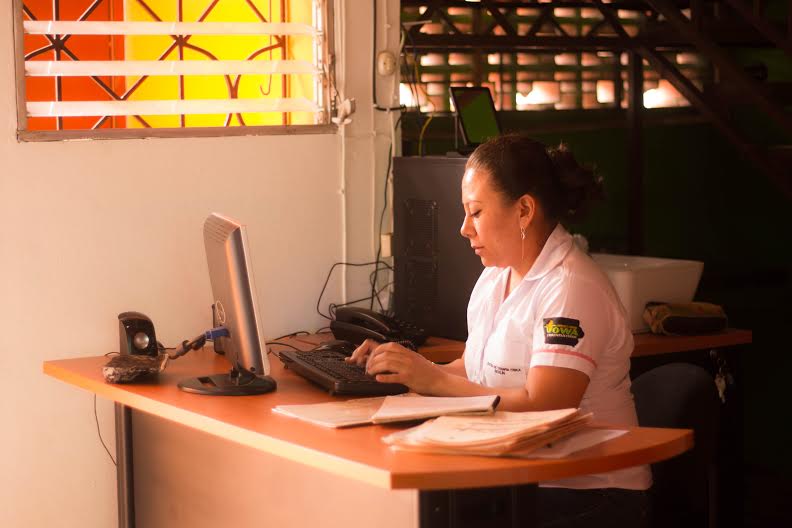 We had meetings with the previous employees and discussed if they would have an interest in helping to reopen the foundation. They all were ecstatic, since they all had been unemployed for the six months it had been closed. They were continually haunted by the many that had been receiving help there asking when there would be help again for them. Lorena, the social worker, Gladis, the physical therapist, and Keyla, the secretary, all agreed to working there again, and we officially opened in June. It was decided to remodel the building to provide a new look and more comfortable work environment. Nidia, a psychologist, was hired to help facilitate the many cases that the others were not able to assist. Claudia, who teaches at Centro Escholar Jerry Burger in the mornings, was added to help tutor and mentor the kids of the community who have learning difficulties or are just falling through the cracks in the public school system. There is no enforcement to require kids to stay in school. Many just don't go or miss too many days and get behind because many parents require their kids to help work to earn whatever they can to supplement the family. We added additional bathrooms and showers to be used by groups staying here when assisting FFIF, to be utilized by the homeless, or those who have no access to bathroom and shower facilities. The upstairs of the foundation building has been updated to accommodate overnight guests or to be used as an emergency shelter.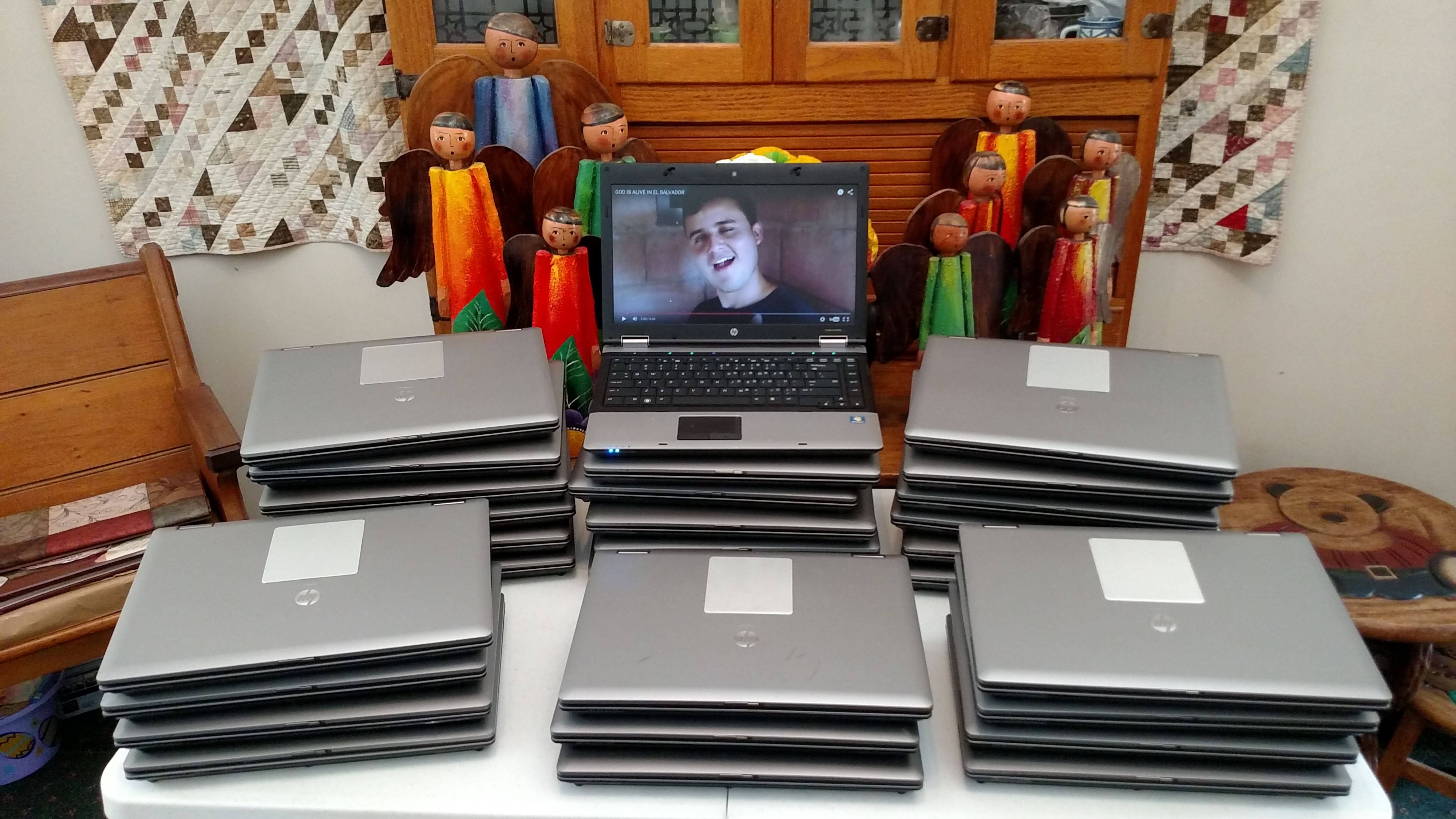 We are currently in the process of finishing an addition of a library and computer center in one of the other buildings. FFIF received a munificent gift of 29 refurbished laptops to be utilized in our computer center and other area schools. Future plans include turning what we call "the big house" into a facility that can house large groups for extended stays. Another building, that was previously a clothing store, is in the works to become a kitchen and dining hall that could accommodate large groups staying here and a place to provide meals to the homeless for one to two days a week; there are currently other NGOs providing three days a week of meals to fill the void. In addition, there are a couple of other buildings that house Mr. Ivo's extensive personal library and document center. He offered these materials for those interested in conducting research or enjoying his collection. It will be quite the addition to complement the FFIF library.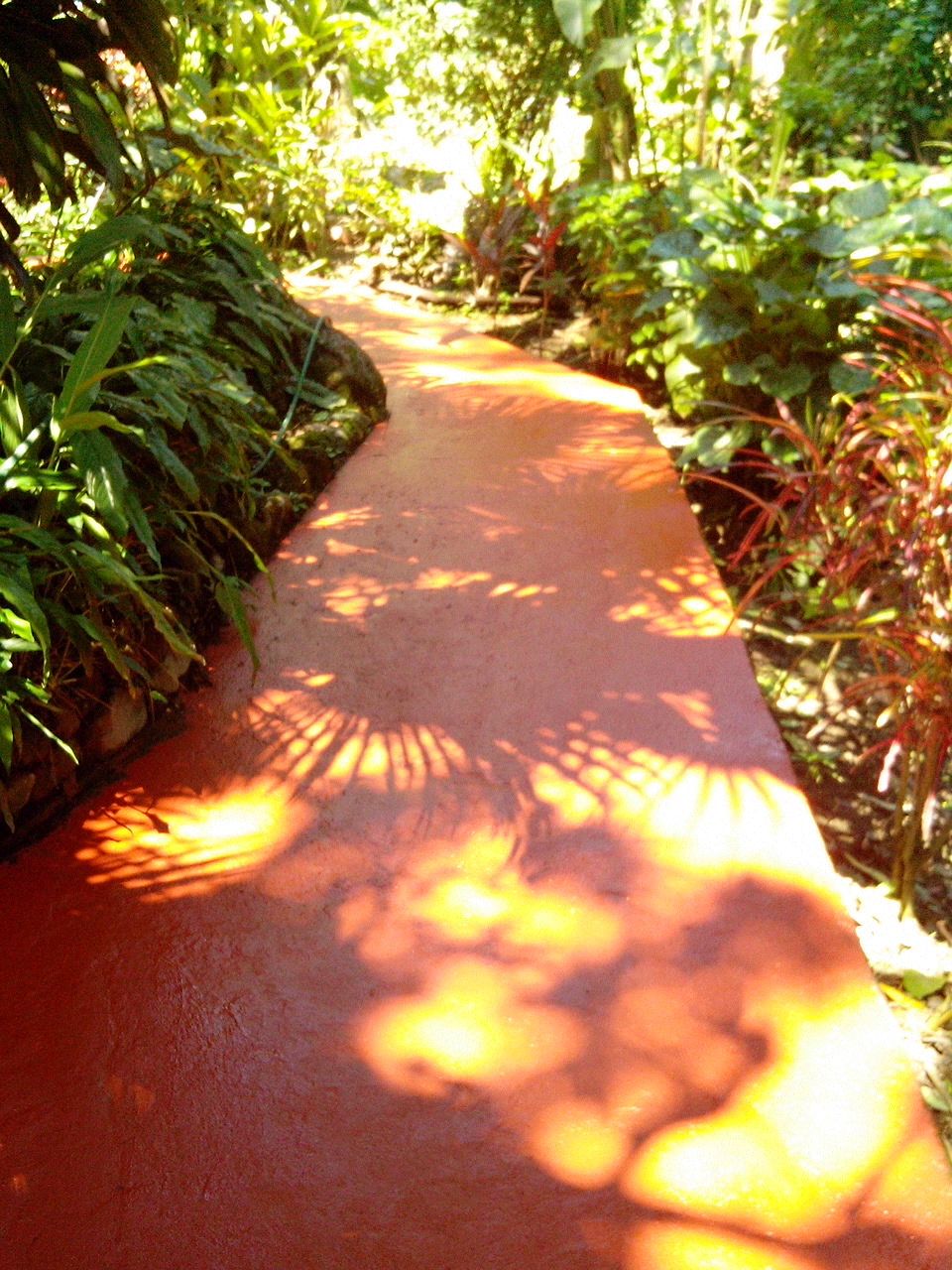 To top it all off, there is a beautiful garden area filled with blooming tropical plants with cement walkways throughout; a virtual paradise unbeknownst to most. Walking throughout the property provides a therapy all in its own. Getting the therapy center up and running has been a major focus the last half of this year. In my mind, it has turned out to be a successful venture.
Some of the statistics from June until the middle of December are: 389 physical therapies, 293 occupational therapies, 21 group therapies involving 40 kids, 25 social cases, and 72 psychological therapies since starting 2 month ago. There are currently 71 kids receiving help and many adults.
The number of cases grows weekly as more people begin to realize that the foundation is open.
The staff was included in the local municipality workshops on women's rights, fighting domestic abuse and trafficking. FFIF has also hosted numerous training days for the community with the support and training by an organization, UCP Wheels For Humanity, thematic trainings provided by Rehabilitation Professional CRIOR, and a well-received three-day eye campaign put on by ASOPROSAR with the help and support of Rod and Mary Hefner. This eye campaign provided help for 365 individuals from around the Berlín area. Many receiving glasses and others scheduling appointments for corrective eye surgeries to be completed in the early part of the new year. All at no charge to the recipients, most who would never have such an opportunity for a life-changing gift. (Be sure to read the report that the ladies of the foundation put together for the year-end; they do one of these every month!)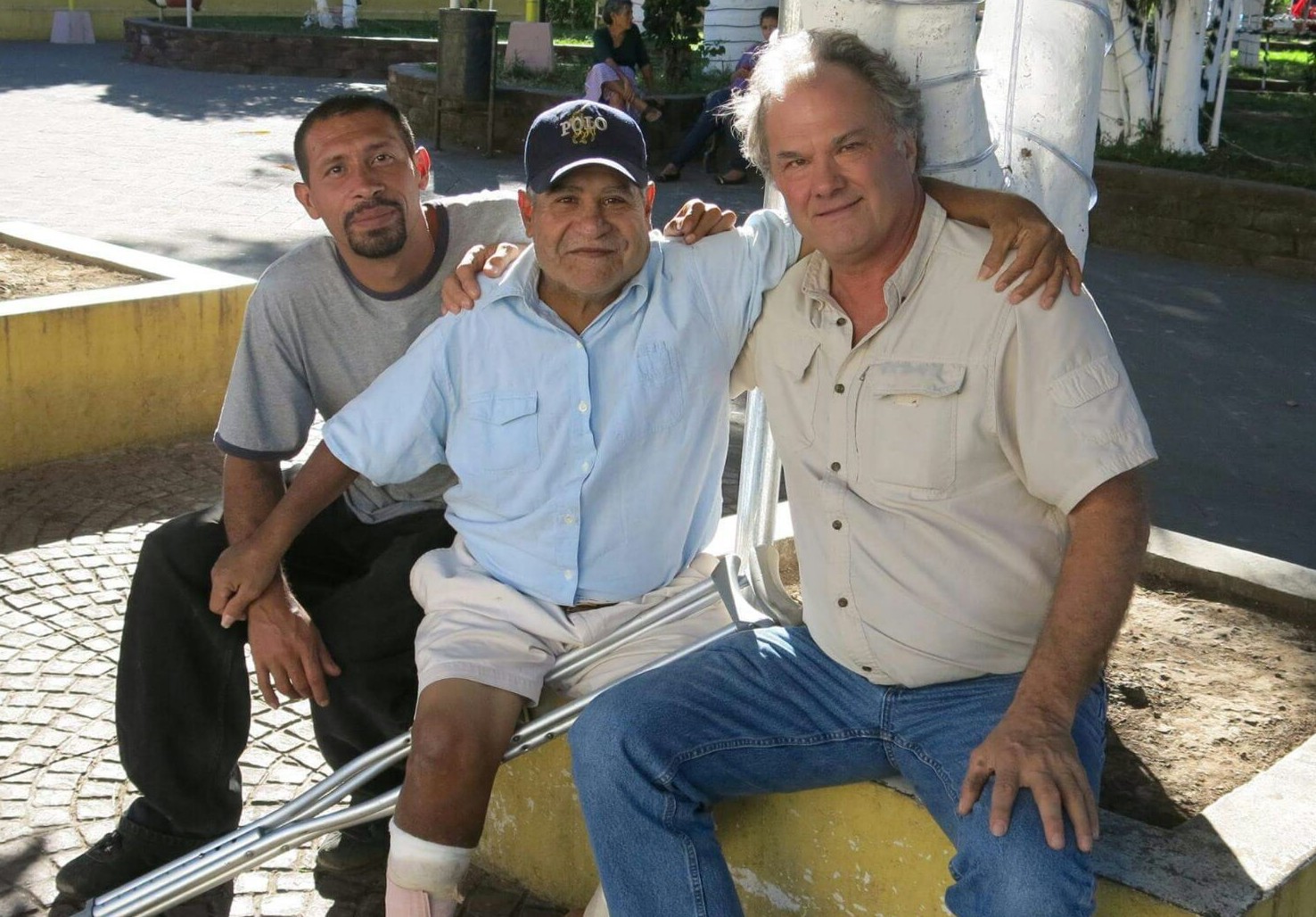 There have been many generous donors who allow us to assist in their wishes and offer help to those in need; whether it be medical help, financial assistance, or the funds necessary to construct a house. The most recent is a generous donation given to the Green Cross Commandos to purchase a much-needed, refurbished rescue vehicle (more to come on that in the near future). Hardly a day goes by that an individual or a family, who has been turned down by other entities, doesn't stop by seeking some kind of assistance. It is a good feeling to know that FFIF has become known as a resource in the community; a place to go of last resort, when all other alternatives have failed. A place of hope. Many thanks to all that have made this a successful year and helped make a difference in the lives of these people who live in extreme poverty in the Berlín area of El Salvador. Your generosity will never be forgotten.
Here's looking forward to 2016:
"Remember, let's look forward; that is the direction we are going."
Jerry