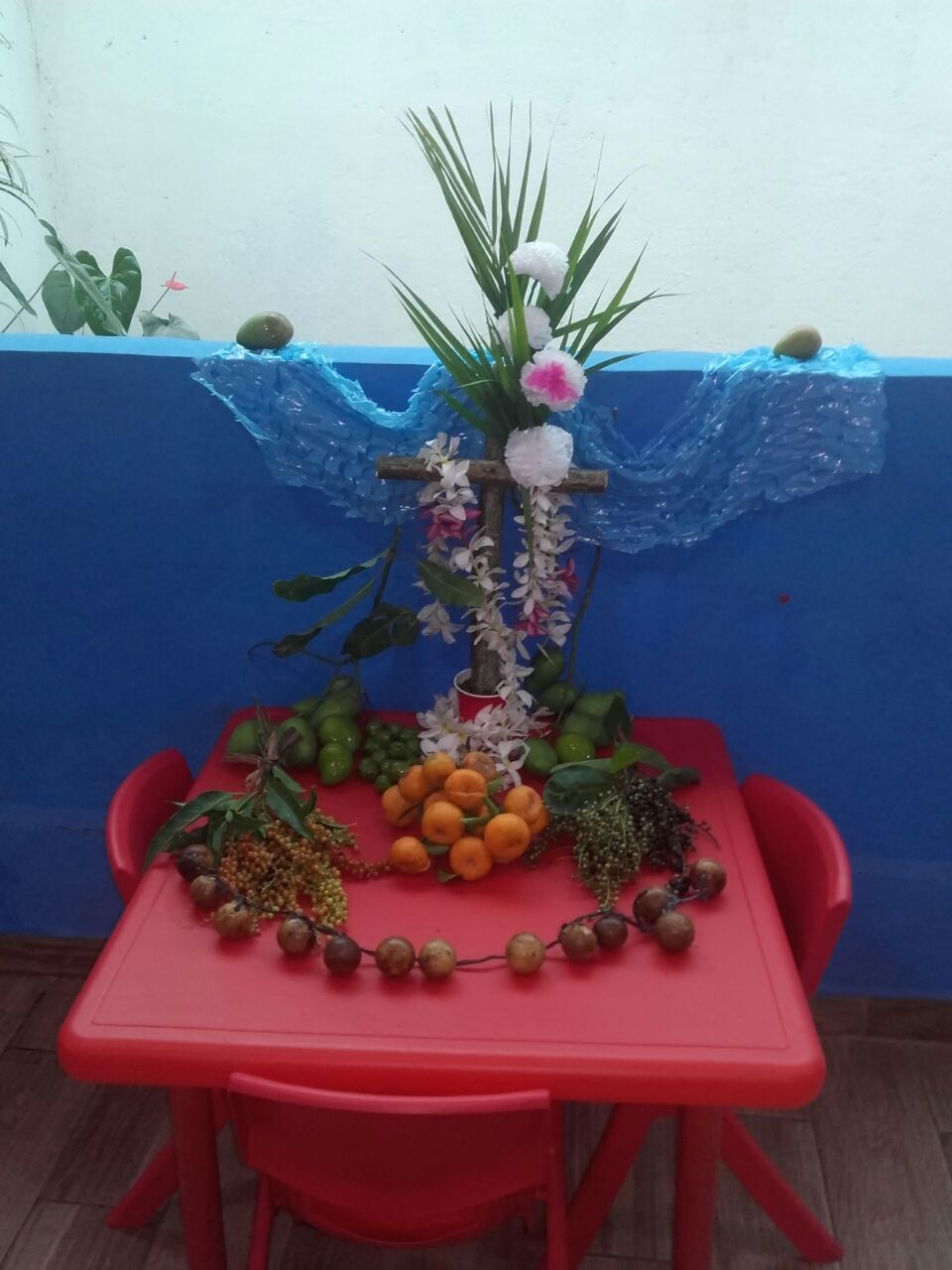 Hello!! Good morning!! I send a little information of what is now celebrated here is the Dia de la Cruz … the tradition to put a cross, decorate it with flowers and fruits that means welcome the winter!!
Asi q suit a small cross of my house and some fruit and put it here on the foundation girl Gladys and Nidia …. I hope you like it !!
The Cross Day is celebrated in El Salvador on May 3, being this party the result of religious fusion of Spanish celebration of the Holy Cross that has roots in the commemoration of the discovery by St. Helena of the Cross of Christ, in time of Emperor Constantine and the Indian tribute to mother earth and the god Xipe Totec.
This festival is a religious tradition and marks the arrival of the rainy season and the birth of flowers and new fruits in El Salvador.
The celebration begins on the eve of May 3, placing a cross of "stick jiote". This is adorned with paper of "Chinese", cutting as "towels, curtains, chains, churritos" with seasonal fruit as mangos, plums, cashews, oranges, coconuts, avocados and flowers coyol.
The ritual of worshiping the cross is made in the house itself or in each others home visit: one kneels and crosses himself (does the Catholic sign of the cross) and takes a fruit and eats it.
---
Hola!! Buenos dias!! les mando una pequeña informacion de lo que se celebra aca ahora, es el Dia de la Cruz… es tradición poner una cruz, adornarla con flores y frutas que significa darle la bienvenida al invierno!!
Asi q traje una pequeña cruz de mi casa y unas frutas y la pusimos aca en la fundación con niña Gladys y Nidia…. espero les guste!!
El Día de la Cruz se celebra en El Salvador el tres de mayo, siendo esta fiesta el resultado de la fusión religiosa entre la celebración española de la Santa Cruz que tiene raíces en la conmemoración del hallazgo por Santa Elena de la Cruz de Cristo, en época del Emperador Constantino y el tributo indígena a la madre tierra y al dios Xipe Tótec.
Esta fiesta es una tradición religiosa y marca la llegada de la temporada lluviosa y el nacimiento de las flores y de los nuevos frutos en El Salvador.
La Celebración se inicia en la víspera del 3 de mayo, colocando una cruz de "palo de jiote" Esta es adornada con papel de "china", recortando en forma de "toallas, cortinas, cadenas, churritos", con fruta de la estación como mangos, jocotes, marañones, naranjas, cocos, aguacates y con flores de coyol.
El ritual de adorar la cruz se hace en la propia casa o en cada casa ajena que se visita: Se arrodilla uno y se persigna (hace la señal católica de la Cruz) y toma un fruto y se lo come.
---